Declaration of Conformity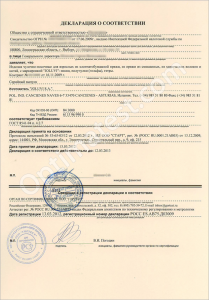 The lists of goods compiled by the Federal Agency for Technical Regulation stipulate the goods that need to be assessed and the form of the target document. As the new Technical regulations are being introduced on a regular basis, the lists are being adjusted. For example, some goods are being excluded from the lists, while others are being transferred from one list to another (meaning some goods no longer have to be certified but rather declared and vice versa).
 The more Technical regulations are introduced, the more goods require a declaration of conformity. For instance, the following groups of goods have to be accompanied by this document:
Clothes
Industrial equipment
Cosmetics
Food
Garden equipment and agricultural chemicals
Fixing hardware
 Contact ROSTEST to see whether the goods you produce need to be accompanied with a declaration of conformity. There is no charge or obligation!
 Even though the declaration of conformity is printed on blank paper, it is legally equal to the certificate of conformity. Also, both of these documents serve as a proof to the safety and quality of the assessed goods as they are issued only after proper testing. The difference between the two is the area of responsibility, meaning that it is the applicant who is responsible for the information contained in the declaration, whereas it is the state organization that is responsible for the information contained in the certificate of conformity.
The goods that only require a declaration of conformity can be certified on a facultative basis. The declaration of conformity has the same expiration date as the certificate (both are valid for 3 years). Just as the certificate of conformity, the declaration has to be included into the State registry and assigned a reference number. Declaration of conformity is illegal unless it is registered.
 In certain cases, you need to obtain a fire safety declaration or certificate first. To learn, which documents are required for you to get the declaration of conformity, contact ROSTEST. Also, you can delegate the declaration procedure to ROSTEST – this is 100% legal and guarantees high quality results in no time!